Preparation time 10 min.
Ingredients (2 people):
1 Tuna steak, a couple of centimeters thick.
lettuces, I have used 4 types of lettuce, the greenest of all and red lettuce leaf.

Baby spinach.
Outbreaks of Canons.
A ripe tomato.
A small stalk celery.
3 mint leaves.
Extra virgin olive oil Ramón Pérez, (obviously).
Balsamic vinegar.
will.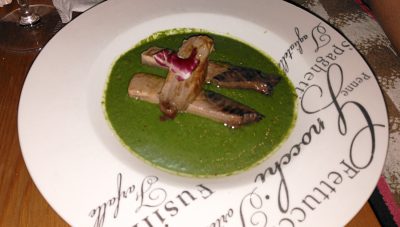 Preparation:
In a glass beater, all are placed lettuce leaves less red, canons, the spinach, celery, peeled and cut into pieces tomato and mint leaves. much oil is added to a mayonnaise, a little bit of salt, then correct, a jet of aceto and triturated with a mixer or processed glass or hand. We get a sort of mayonnaise-green gazpacho.
Cut into strips tuna for canes centimeter wide by the thickness of the fillet. I spread with a little oil, very little, because we do not want the fish cold; place it in a very hot iron no more than 5 seconds on each side.
In a bowl, It placed the "deconstructed salad", and center pieces of tuna. To top off a piece of red lettuce above all to color.